We use virtual meeting platforms a lot here at TotalCare IT. By far our favorite over the years has been Zoom for quality and ease of use. But we also use Microsoft Teams regularly - the native integration with Outlook is just unbeatable.
And we have our eye on a new feature Microsoft has added to Teams.
Virtual Appointments was recently added to the Microsoft Teams platform. It adds a new meeting style tailored for engagements with customers.
Have you been using Teams with a different online appointment app for analytics tracking? This new feature will streamline the experience and allow you to do everything from within the Teams app.
What Is Virtual Appointments in Teams?
Virtual Appointments gives you an all-in-one meeting platform for customer engagements. You can schedule, manage and conduct these meetings in Microsoft Teams.
This new feature brings together the scheduling component with the video conference interface. Anyone with the link can join the virtual appointment. They do not need a Teams account.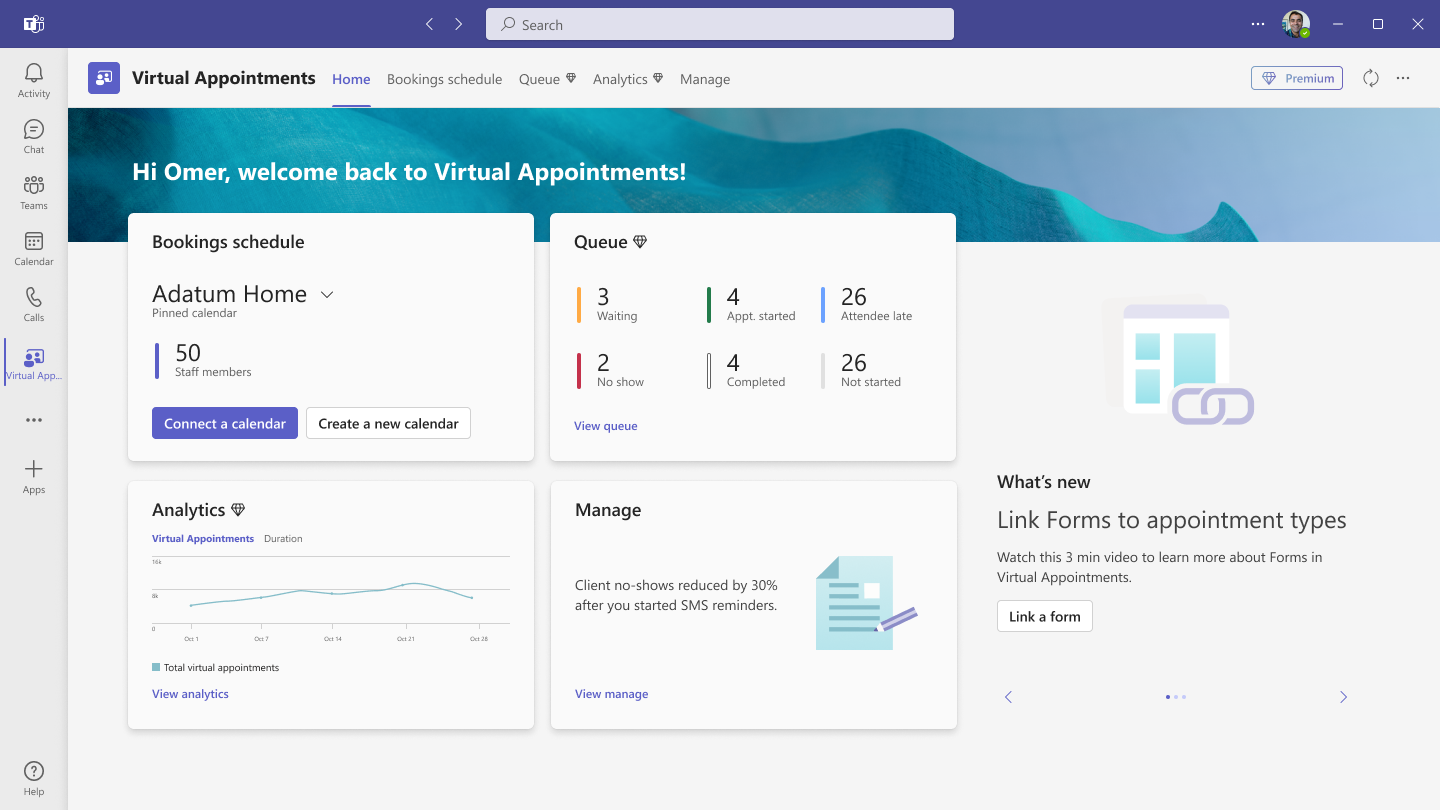 The power of Microsoft's scheduling app, Bookings, connects to Teams. This makes the Virtual Appointments function as seamless as possible.
Some of the features below will be available with any Microsoft 365 plan. Some are available with a premium plan.
Teams Virtual Appointments Features
Manage Scheduled Appointments
You can see your scheduled appointments in a single view. Manage cancellations and time changes easily. You can even charge a price for meetings if you want.
Send Customized Confirmations & Reminders
You can send customers a customized message via SMS or email. (We are looking forward to trying the Virtual Appointments SMS feature as we currently use another platform for SMS.) This personalizes the experience for your customers based on their communication preferences. You can also use automation to give that personal touch without sending each one manually. Automated appointment reminders are another time-saving function.
Customized Waiting Room
Add a personal touch to your virtual engagements. You can customize the Teams waiting room. You can use themes and logos to brand your business. You can also chat with attendees while in the lobby waiting room. This is helpful if your current appointment is running a little long. You can let them know you'll be right with them.
Meeting Follow-ups
You can send meeting follow-ups after a virtual appointment. This helps you reduce the time it takes to send any promised follow-up information. You also keep all details in a single place. This makes your client communication trail easier to follow.
Note: Virtual Appointments is not meant to be used as a CRM. It does not replace a CRM. But all data and such associated with virtual meetings booked are conveniently kept in one place.
Organization & Department Analytics
How effective are your appointments? It's hard to know if your demos are resulting in sales if you don't have a good tracking system. Working between many applications to analyze this data can be a huge time suck.
You can now experience data tracking in Teams with a premium analytics feature. It gives you helpful reporting. The reporting provides insights into B2C virtual appointments in all departments - data like the number of appointments, duration, no-shows, and more.
How to Use Virtual Appointments
To start using Virtual Appointments in Teams, admins must set up a few things. Note, they must be a Bookings admin to access these settings.
Create a Calendar
In the Virtual Appointments app choose to "Create a calendar." You can find this option on the Home tab.
Larger organizations may wish to create different calendars for different departments.
Add Staff
Next, add staff members through the "Manage" tab. You can add up to 100. You will also need to assign them a role. Once you've added your staff, you can view their availability in both Teams and Outlook.
The cross-app compatibility is the nice thing about using an integrated platform like M365. Your Outlook calendar syncs across apps.
Create Appointment Types
You'll next set up your appointment types. You can choose from these two options:
Scheduled: You schedule the day/time. The system adds this information to the email confirmation.

On-demand (Teams Premium): Customers can choose when to meet from your booking calendar.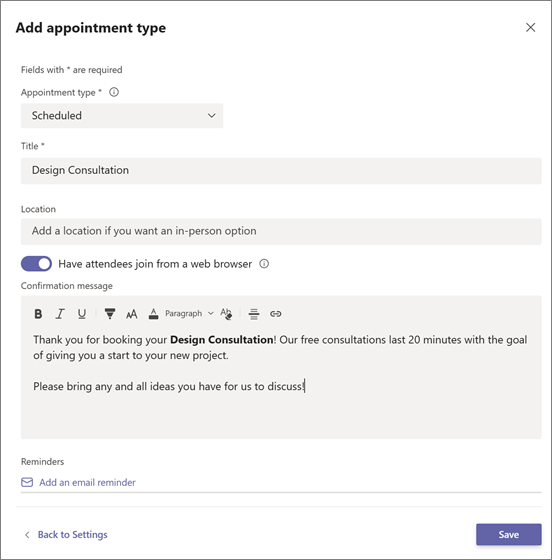 Set Up SMS Notifications (If desired)
If you choose to use SMS notifications and have the premium Teams plan, you can set this up next. This allows you to easily send appointment confirmations and reminders via text message.
Note: Attendees currently need a valid U.S., Canadian, or U.K. phone number to receive the SMS notifications.
Link Forms (If desired)
If you would like your attendees to fill out any forms, you can link them now. Virtual Appointments allows linking up to four cloud-based forms. These would be forms you have created in Microsoft Forms. This does not require the premium version at this time.
Publish Your Booking Page
If you want to give customers the ability to book on-demand appointments, take this next step. You will need to publish the booking page. You do this on the "Manage" tab of Virtual Appointments. Select "Booking page," and turn on "Publish booking page."
Hot Tip: Use the Bookings web Browser
While going through the setup process, we found the web browser version of Bookings easier to navigate than the desktop app inside of Teams. Here's how to navigate to the web browser version of bookings from your online Microsoft 365 profile.
1. Go to your Microsoft 365 online profile
Click on the 9-dot square in the upper lefthand corner.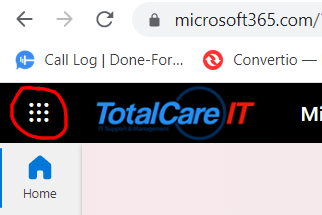 2. Select the Bookings app
Click on "All apps." Then type in "bookings" and select the app.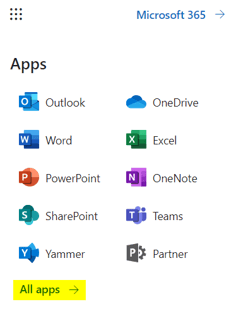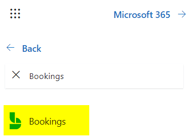 From here you can follow the same process described above, but with an easier-to-follow display.
Are you interested in supercharging your Microsoft 365 experience? Give us a call today to set up a meeting.